Tour Report: WITB for Team TaylorMade at the Omega Dubai Desert Classic
It doesn't get much better than this. The Middle East swing lands in Dubai at the Emirates Golf Club in which players will have to navigate around tight but long fairways, firm greens and perhaps the deepest, thickest rough on the European Tour.
Team TaylorMade is well represented at the Omega Dubai Desert Classic, which means our Tour team were very busy. We caught up with Adrian Rietveld who talked us through some of the key equipment changes.
Known for not changing his equipment easily, Martin Kaymer was one of the first players to test SIM. Adrian sent Martin a SIM driver before Christmas and he put it to the test with great results. However, this was no average pre-season testing as his playing partner was Rory McIlroy! Martin noticed he was driving it well and keeping up with Rory who was testing SIM Max at the time.
"Adrian, I'm not going to lie, I was 17 metres longer with the SIM driver."

- Martin Kaymer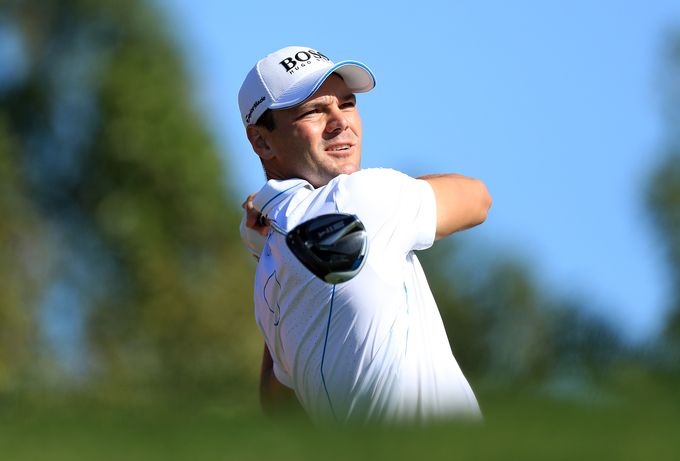 Adrian gave us a unique insight into the testing process of Martin;
"I sent him a SIM driver in his specs in December and we speak regularly on the phone when it comes to his equipment. But after his testing it was clear he was very happy with SIM driver. He started to test over a 4-day period as he feels different every day. Each day could bring something different, the weather could change, he practices in the morning or evenings etc. He's got a GC2 Quad in which he his 20 golf balls with his M5 driver and then 20 golf balls with SIM driver after that he plays a round of golf with SIM. Then, on day 2 he hits 20 golf balls with M5, 20 golf balls with SIM and then plays are round with his M5 driver. Day 3, 20 golf balls with SIM followed by 20 golf balls with M5 and then a round of golf with SIM driver. He then collects all the data together and analyses and thought that there was an error with his numbers. Not believing what he saw, he did it all again but with TrackMan and sure enough, it brought up the same results and it's been in the bag ever since! As Rory was testing SIM Max, Martin asked to test one as well, but SIM driver was perfect for him and he's been performing well at the start of this season."
Martin Kaymer's WITB
SIM Driver | 8°
M6 Fairway |14°
SLDR |19°
P7TW | 3- 9 Iron
Milled Grind | 48°
Hi Toe | 54°, 58°
Spider X
TP5x
Californian native, Kurt Kitayama was one of the first to work with Adrian at The Kingdom in Carlsbad. They worked through his bag and Kurt gained ball speed with SIM driver. Speaking to Adrian on his fitting, "As one of the strongest hitters on the European Tour, we went slightly heavier in his shaft this year for a bit more control and more consistent numbers. He played well in Abu Dhabi and when I caught up with him this week we looked at his launch conditions. With a difference in temperature we made a small tweak to the weight of his driver and he gained a bit more spin to help him with carry distance. One other key equipment change is that Kurt is now gaming P7TW irons, watch out for him this season, he's going to be in the mix!"
Kurt Kitayama's WITB
SIM Driver | 10.5°
SIM Max |15°
P790 UDI
P7TW | 4 - PW
Milled Grind | 52°, 56°, 60°
TP5
Kitayama (-3) was the only bogey-free player in the morning, making gains on the 15th, 18th and third.
Lucas Herbert has made the switch from TP5x to TP5 this week, gaining more control in the shots he'll have to hit this week. Going though his whole bag, a change was made to his SIM driver taking it from the higher setting to 1 click less of loft to optimise the pairing with his new TP5 golf ball.
"He launches low and aggressive and the spin rates suit his launch angles and compliments his drive"

- Adrian Rietveld
Lucas currently sits at 3-under par with fellow Team TaylorMade athlete Kurt Kitayama.
Lucas Herbert's WITB 
SIM Driver | 9° 
P7TW | 3 - PW
Milled Grind RAW Wedge | 48°, 50°, 54°
Milled Grind Hi-Toe | 60°
Spider X Putter
TP5
Following on from last week, the desert success continues as more non-contracted players have chosen to play TaylorMade equipment with the majority preferring the SIM model over SIM Max. Players are commenting on the stability of SIM and how their misses are much better than previous seasons. Each of our SIM driver, SIM Max and SIM Max D drivers are loaded with technology but if your unsure of which will suit your game, we've got you covered, click here to look at our comparison blog.
"I think in the SIM driver we have something different, this is the best product I've ever worked with in my 14-15 years of fitting golf clubs every day, I think it will be the chosen product by everyone that can play it, both on Tour and at amateur and club level due to his combination of power and stability"

- Adrian Rietveld
Image Gallery